When Central Pacific tracks reached Colfax in September 1865, mountain construction began in earnest. The first major obstacle to overcome was Cape Horn, a rocky promontory high above the North Fork of the American River. This proved to be a major test for the Chinese workers, who helped build the railroad across the steep hillside in the winter of 1865-1866.
While the actual slopes at Cape Horn do not support oft-repeated stories that workers were suspended from cliffs in baskets, one 1870 report notes that
"the men who broke the first standing ground were held by ropes until firm foot-holds could be excavated in the rocky sides of the precipitous cliffs."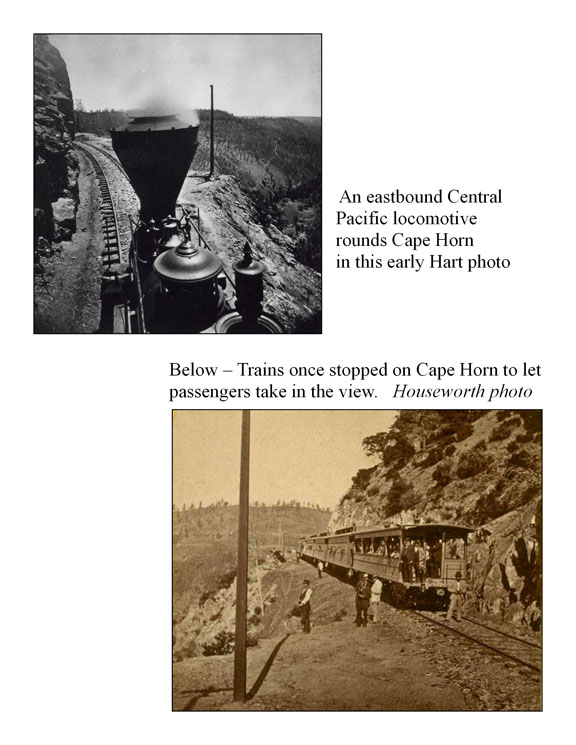 In his Chief Engineer's Report of November 1865, Samuel Montague reported "the grading upon the thirteen miles between Colfax and Dutch Flat – comprising some of the most expensive work on the line – is two-thirds complete." He added "The work at Cape Horn has proved less difficult and expensive than was first anticipated."
Some later accounts refer to carving a roadbed in granite at Cape Horn, but the rock is actually a slate rock which is very weak compared to granite, and breaks away with relative ease to a pick and pry bar.
Despite the controversy over construction methods, Cape Horn remains to this day a major achievement in the construction of the Central Pacific's Sierra crossing, and a great place to view mountain railroading. The Hwy174 overlook by the Red Frog restaurant near Colfax offers good views of trains rounding Cape Horn.