The Central Pacific tracks reached Rocklin March 10, 1864.  On March 19, the Governor Stanford pulled an excursion train with two recently completed passenger cars to the granite quarries at Rocklin, the new end of track. Also in March 1864, the first revenue train ran on the Central Pacific, carrying granite from the Rocklin quarries to Sacramento.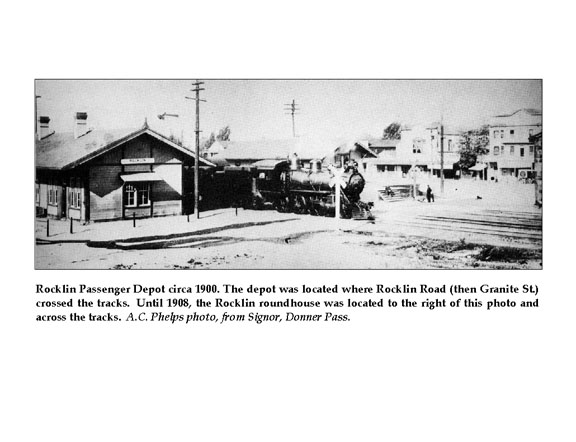 Rocklin became a major terminal for the new railroad, boasting a passenger depot, 26-stall roundhouse and shops, and employing up to 300 railroad men.  As operations on the railroad increased, the Rocklin facilities were considered cramped and inadequate.  In 1906, Roseville was chosen as the site for a major new terminal, and in March 1908 the last of the Rocklin functions were transferred to the new Roseville facility.  The Rocklin roundhouse was dismantled in 1910.
Today, Rocklin serves as a stop for Capital Corridor service to Sacramento and the Bay Area.